I randomly threw on this outfit, but once I got dressed it reminded me of Guys and Dolls. The guys part would be the top and the men's shorts, but the dolls part would be my wedges, the pink bow, pink nails and my blonde hair. I rather like the look. I'm not to keen on these shorts since they aren't that flattering to my body, but nonetheless, they are a nice change from skirts.
It's incredibly hot today. It doesn't even feel like spring. Then again, it'll be June next week, so I suppose the rapid weather change is normal. I really wish that I could be sitting on a beach in the South of France right now. Unfortunately, that won't be happening; I can dream though, can't I?
Hope you're all enjoying the weather, and if you have cold weather, than hopefully some of this heat in Toronto will drift down to wherever you guys are.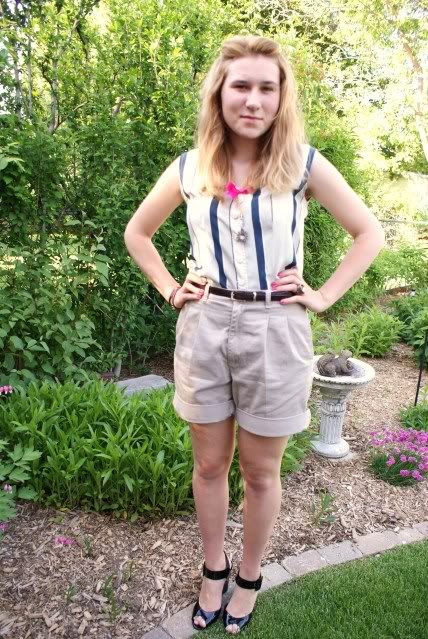 vintage top. men's shorts. Nine West wedges. DIY pink bow and necklace. random jewelry. Aldo ring. unknown belt.