Today I went to Niagara Falls, but on the American side. I don't want to sound biased, but the Canadian side is much better, there is just so much more to do and see. Although I enjoyed getting closer to the falls on the American side, it's just dull, while the Canadian side has casino's, restaurants, museums, rides, shops, just a lot more things. Anyways, it was fun nonetheless.
dress, Guess. sweater, Marciano. jewelry, custom made.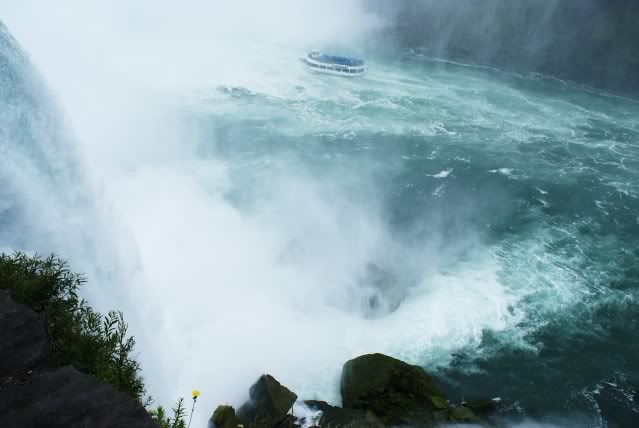 I mentioned the project the other day, so this is it:
Here are the details of the Pay It Forward Project:
I am entering into the following contract with the first 5 people who comment on this post saying that they would like to participate and then commit to do the same on their blog. Just read below and if you feel up to the task copy the following into your blog and leave me a comment. I would prefer to not ship out of the USA or Canada, but I might reconsider depending on where you are located, so just let me know where you are.

1. I make no guarantees that you will like what I make. Whatcha get is whatcha get.
2. What I create will be just for you, with love.
3. It'll be done this year (2009).
4. I will not give you any clue what it's going to be. It will be something made in the real world and not something cyber. It may be weird or beautiful. Or it may be monstrous and annoying. (unlikely!) Who knows? Not you, that's for sure!
5. I reserve the right to do something strange.
6. In return, all you need to do is post this text on your blog and make 5 things for the first 5 to respond to your blog post.
7. Send your mailing address - after I contact you.

Welcome to everyone. I will however, make an effort to do something that you like based on what I see on your blog.

Come on, don't be shy. Even if you don't think you're the creative type, you might end up surprising yourself - and making 5 other people very happy too!

Anyway, feel free to comment on this post even if you don't want to participate. However, if you do want to participate, indicate that in your comment and if you are among the first five to do so, I will contact you for your mailing address. Know that it might take me a long while to figure out what to send you, so be patient. Also, remember that this is a binding contract, so if you agree to take part, you have to do your part.
Anyways, hope you're all having a lovely weekend.